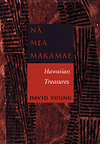 Na Mea Makamae: Hawaiian Treasures is an easy to read introduction to ancient Hawaiian culture. Early Hawaiian scenes are described in the words of early explorer Captain James Cook, naturalist Andrew Bloxam, Dr. Eduard Arning, missionary William Ellis, Hawaiian scholars David Malo and Samuel Kamakau and contemporary Hawaiians and give the reader a glimpse of life in early Hawaii.
The chapters detail many aspects of the lifestyle of the ancient Hawaiians, including food, shelter, textiles, clothing, travel, fishing, games and recreation, musical instruments, war and weapons, religion, and ornaments. The book is filled with fifty-nine color illustrations and nineteen black and white photographs of previously unpublished Hawaiian artifacts that connect the tools, dress, implements and fishing gear made by the early Hawaiians with each phase of their life. A chapter on native trees includes photographs of wood samples of the rare endemic as well as the trees introduced by the early Hawaiian settlers. Emphasis on life in early Hawaii is centered in the Kona area of the Island of Hawaii, as this area was and still is considered to be rich in the history of Hawaii.
The Hawaiian Islands are one of the most isolated places on Earth and the culture that developed there since the initial settlers in the fourth or fifth century A.D. is truly unique. The isolation from the other islands of the Pacific and an abundance of native materials with which to work gave the Hawaiians the opportunity to develop their culture separate from outside influence. The artifacts that they left behind, in the form of detailed feather capes, wooden images of their gods, musical instruments and fishing gear are the only tangible evidence of this culture and important to consider with its development.